Our Story
Tech Connection Inc
1. Our goal is 100% up-time or operability. We will immediately service any damaged or down networks, phones, or other equipment we provide.
2. Our best client is an educated consumer. The more clients understand our service, the more they will like our services.
3. We are local, down the street. We provide personal attention to our clients and we know the Islands.
4. Our approach is to let you know what we will charge up front, with additional charges very rare. No nickels & dimes!
5. We strive to provide a frictionless transaction, make buying our services and equipment as convenient as possible.
6. We ask more questions, better questions, to assure that we understand your situation. Everyone is different, we do not make assumptions.
HOW DID WE COME TO DESIGN A SYSTEM FOR
CABLING AND NETWORKING?
When we originally opened for business we hadn't planned on becoming experts in structured cabling and wiring, or building computer networks. We initially targeted customers we thought would need some consulting work done, acting as an outside IT provider for the client. It can be a tough marketplace to work in and differentiate yourself. Since we found that computing consultants are basically everywhere, we focused on doing the one job that none of them wanted to do: stringing ethernet cable through the office space and building the network. And stringing cables and wires turned out to require a structured cabling system to really shine as a service.
Over the course of many years, we did more and more cabling and less and less IT work. Some days we wondered why we bothered to try and beat the other consultants at the outsourced IT game. It was clear we did something unique, we took pride in doing a good job and we had a more organized and systematic product than anyone else.
Building the network is one thing, but all those years as a consultant gave us skills needed to configure switch VLANs, router settings, and NAS devices. With this, we had all the needed systems in place to build a great network and support it into the future.
Our founders:
Derek Smith - Derek has worked variously as a help desk technician, a bench technician, a college instructor, and a software designer. In between unsatisfying jobs he was struck with a fit of entrepreneurship and started work as an independent consultant. After a year of business, Derek and Joe combined efforts to create TCI.
Joe Torres - While no longer with the company, Joe was a founding member and a vital part of the workforce when TCI was launched. Joe's previous experience working at the Cable and Telephone companies locally was a big part of the reason TCI tackled projects that involved wiring, power tools, ladders, and other non-traditional IT staff tasks, which helped us find our niche.
Meet some of our networking gurus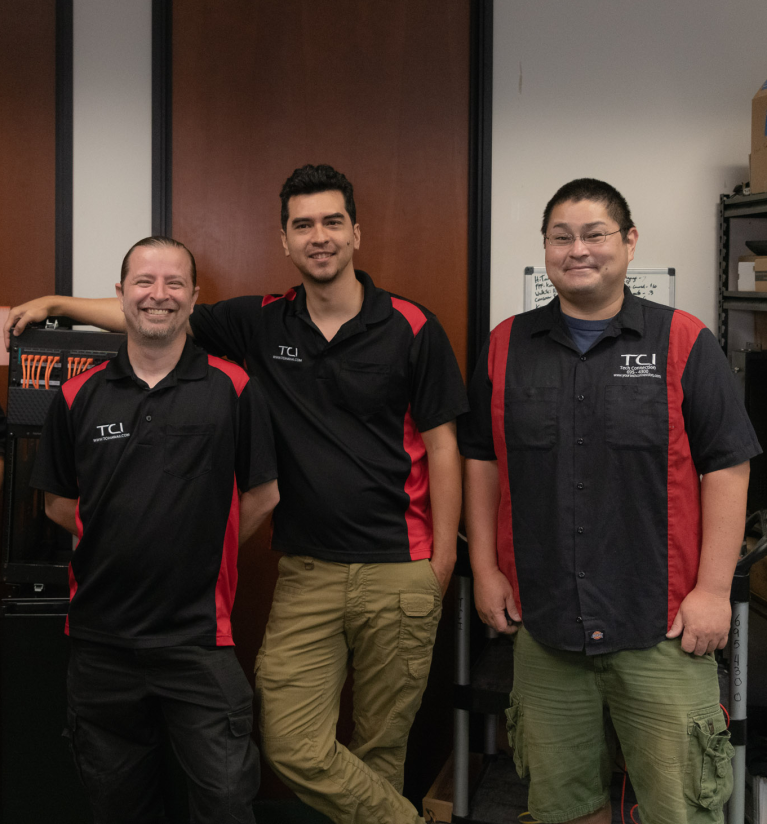 Left to right: Derek Smith, Chase Asahina, Jeff Ohata
WE KNOW YOU'LL HAVE A GREAT EXPERIENCE WORKING WITH US, AND WE APPRECIATE YOU TAKING THE TIME TO VISIT.
Get in touch