Structured Cabling
Structured cabling is the method we use to build our high-performance networks. With our system, cables are organized, neat, labeled, racked, terminated, and patched with precision.
Our system has evolved over hundreds of jobs and we have a standard deployment that will work for 15 cables or 400 cables. If your site needs secondary switches in remote locations, our system can handle it with fiber optic backbones or microwave bridges for extremely remote links. You can get started directly on our website using our cable wizard to get a quote. You just tell us how many drops you need and we'll take you to the right sized rack system.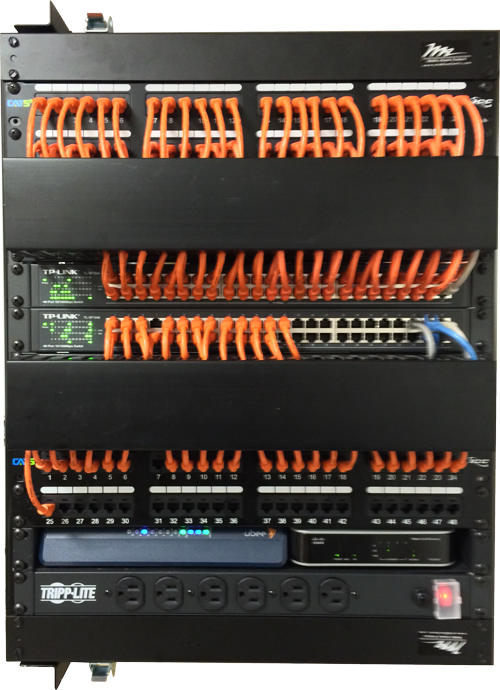 Copper Cabling - CAT3, CAT5, CAT6
TCI can build your network to any of your specifications. If you need Cat6 for performance or Cat5e for cost savings, we build the network using a structured system that will keep things simple, clean, and useful.
Why does our system work?
Because we follow important guidelines and install the system following our strict guidelines.
Cables are attached to hangers and J-Hooks, not left strung out messily in your ceiling
Cables are run in a "cable highway", a common pathway through your space that prevents spider-web sprawl
Patch panels and cables are labeled and split by type, and even color coded
Switch and panels are cleanly integrated by our patch management system
Cables are brought out from the ceiling using a dedicated chase pipe - not a ragged hole in your tiles
We've thought out the little details - the height of wall outlets, the orientation, the color of the jack, etc
Does your current network adhere to these rules? Wouldn't you prefer the most important part of your computing operations be the most thought out piece? We see the value in a well-done network and our clients do as well.
Fiber Optic - Single/Multimode
Our fiber optic laying services are designed as part of our structured system. Our switches are configured to accept fiber cords in the event you need to expand.
We also offer simple as-needed fiber optic services.
Because we follow important guidelines and install the system following our strict guidelines.
Cable running and string services for fiber
Fiber termination services
Fiber splicing services
Single mode and multimode links supported
In order to terminate these types of cable, we use standard Fujikura fusion splicers that create a precise splice with minimal DB loss of .03 or less. Standard Corning optical cable pigtails and patch panels create connectors with low insertion loss. For very high speed links the DB loss budget must be kept to a minimum so no manual polishing or mechanical splices are performed.
You can purchase fiber termination services for cables you've already run yourself directly on our site. For anything more complicated, you'll need to call or contact us.
Looking for a wireless solution.
If wiring/cabling is not what you're looking for you may be interested in our wireless and P2P solutions.
Explore wireless and P2P options